Out of the three available professions in Harry Potter Wizards Unite, The Professor profession is the traditional support class of the game. In this Professor guide, we will walk through what the skill tree has to offer, as well as the fundamentals of playing a Professor.
According to the game, Professors are "adept spellcasters who use their deep magical knowledge to debilitate Foes while also supporting their Teammates". Professor McGonagall leads the Professor profession in the game.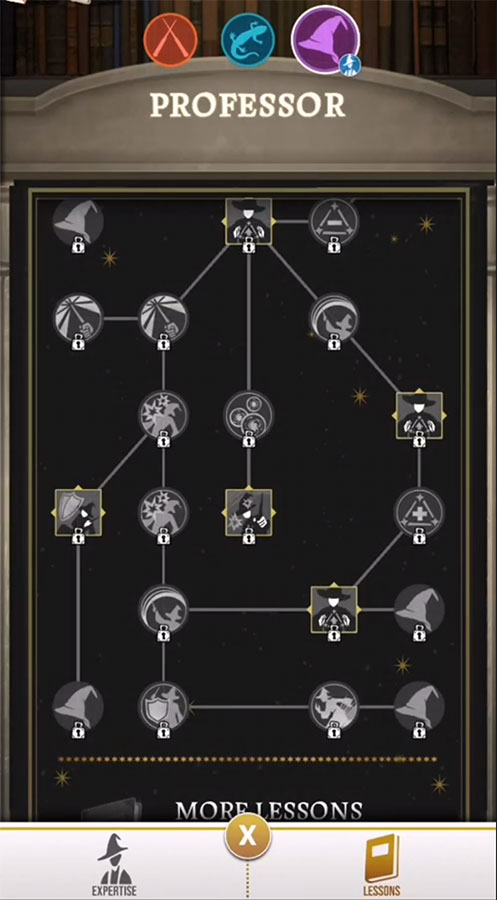 Strengths and Weaknesses of Professor Profession
"Professors are at an advantage when fighting against Curiosities type enemies, but ineffective at fighting Dark Forces type enemies.
As a support class, Professors bring a wide range of utility spells to any group. They can offer a small heal via their Mending Charm, bolster the parties defences, as well as inflict offensive debuffs on enemies. Their well-roundedness establishes them as an asset to any group content"
Professor Guide to Active Skills
This section is a work in progress; all the skills will be updated in due course. Credits for the information listed at the end of the page.
Effect
Deterioration Hex
Places an Impairment on a Foe that lowers their Stamina every time they attack or defend
Improved Deterioration Hex
Can be levelled two times (total of -20 Foe Stamina)

Level 1: -10 Foe Stamina
Level 2: -10 Foe Stamina
Deterioration Hex Maxima
Can be levelled three times (total of -30 Foe Stamina)

Level 1: -10 Foe Stamina
Level 2: -10 Foe Stamina
Level 3: -10 Foe Stamina
Deterioration Hex Mastery
Can be levelled two times (total of -20 Foe Stamina)

Level 1: -10 Foe Stamina
Level 2: -10 Foe Stamina
The Mending Charm
Restore a Teammate's Stamina by a small amount
Mending Charm Maxima
Restore a Teammate's Stamina by +2
Protection Charm
Enhance a Teamate by Increasing their Defence
Enhanced Protection Charm
Can be levelled three times (total of +15% Teammate Defence)
Level 1: Enhance Teammate Defence by 5%
Level 2: Enhance Teammate Defence by 5%
Level 3: Enhance Teammate Defence by 5%
Perfected Protection Charm
Can be levelled three times (total of +15% Teammate Defence)
Level 1: Enhance Teammate Defence by 5%
Level 2: Enhance Teammate Defence by 5%
Level 3: Enhance Teammate Defence by 5%
The Proficiency Charm
Enhance your entire team by raising their Proficiency Power
Perfected Proficiency Charm
Can be levelled three times (total of +15% Precision)

Level 1: Enhance Team Proficiency Power by +5%
Level 2: + Enhance Team Proficiency Power by +5%
Level 3: Enhance Team Proficiency Power by +5%
Advanced Proficiency Charm
Can be levelled four times (total of +20% Precision)

Level 1: Enhance Team Proficiency Power by +5%
Level 2: + Enhance Team Proficiency Power by +5%
Level 3: Enhance Team Proficiency Power by +5%
Level 4: Enhance Team Proficiency Power by +5%
Professor Guide to Passive Skills
Effect
Ideal Exchange
+5 Power vs Foes with at least 1 Impairment
N.E.W.T.S Preparation
Can be levelled two times (total of +15 Stamina)

Level 1: +7 Stamina
Level 2: +8 Stamina
From Seed to Tree
Can be levelled three times (total of +26 Stamina)

Level 1: +7 Stamina
Level 2: +9 Stamina
Level 3:: +10 Stamina
A New Perspective
Can be levelled two times (total of +17% Defence)

Level 1: +7% Defence
Level 2: +10% Defence
Book Mates
Can be levelled two times (total of +4 Power)

Level 1: +2 Power
Level 2: +2 Power
Room of Requirement
Can be levelled two times (total of +5 Power)

Level 1: +2 Power
Level 2: +3 Power
Restricted Section
+6% Defence vs Foes with at least 1 Impairment
Strength in Numbers
+5 Power while Player has at least 1 Enhancement
Sparring Specifics
+9% Defence vs Foes with at least 2 Impairments
Binns Mode
Can be levelled two times (total of +3% Precision)

Level 1: +1% Precision
Level 2: +2% Precision
Summer Reading
Can be levelled four times (total of +53% Proficiency Power)

Level 1: +9% Proficiency Power
Level 2: +11% Proficiency Power
Level 3: +14% Proficiency Power
Level 4: +19% Proficiency Power
Light Reading
Can be levelled two times (total of +11% Critical Power)

Level 1: +5% Critical Power
Level 2: +6% Critical Power
Teamwork Makes The Dream Work
+12 Power while Player has at least 2 Enhancements
Confidence
+6% Defence while Player has at least 1 Enhancement
The Art of the Stance
Can be levelled three times (total of +29 Stamina)

Level 1: +8 Stamina
Level 2: +10 Stamina
Level 3:: +11 Stamina
Wand Wizardry
Can be levelled three times (total of +8 Power)

Level 1: +2 Power
Level 2: +3 Power
Level 3:: +3 Power
Attention to Detail
Can be levelled three times (total of +7% Precision)

Level 1: +2% Precision
Level 2: +2% Precision
Level 3: +3% Precision
Divinating Details
Can be levelled two times (total of +2 Initial Focus)

Level 1: +1 Initial Focus
Level 2: +1 Iniitial Focus
Poppy's Prescription
Can be levelled four times (total of +44 Stamina)

Level 1: +9 Stamina
Level 2: +10 Stamina
Level 3: +11 Stamina
Level 4: +14 Stamina
Nearly Headless Nick
Can be levelled five times (total of +63 Stamina)

Level 1: +9 Stamina
Level 2: +10 Stamina
Level 3: +11 Stamina
Level 4: +14 Stamina
Level 5: +19 Stamina
Subliminal Understanding
Can be levelled three times (total of +8% Precision)

Level 1: +2% Precision
Level 2: +3% Precision
Level 3: +3% Precision
Falling for Quidditch
Can be levelled four times (total of +56 Stamina)

Level 1: +11 Stamina
Level 2: +12 Stamina
Level 3: +15 Stamina
Level 4: +18 Stamina
Pronunciation Proclamation
Can be levelled three times (total of +9 Power)

Level 1: +3 Power
Level 2: +3 Power
Level 3: +3 Power
Problem Solving
Can be levelled three times (total of +15% Defence Breach)

Level 1: +3% Defence Breach
Level 2: +5% Defence Breach
Level 3: +7% Defence Breach
Master Mind
Can be levelled three times (total of +5 Maximum Focus)

Level 1: +1 Maximum Focus
Level 2: +2 Maximum Focus
Level 3: +2 Maximum Focus
Flight of Fancy
Can be levelled five times (total of +32% Accuracy)

Level 1: +3% Accuracy
Level 2: +4% Accuracy
Level 3: +5% Accuracy
Level 4: +8% Accuracy
Level 5: +12% Accuracy
Legendary Lesson
Can be levelled three times (total of +25% Deficiency Defence)

Level 1: +6% Deficiency Defence
Level 2: +8% Deficiency Defence
Level 3: +11% Deficiency Defence
Team Teaching
+9% Defence while Player has at least 2 Enhancements
The Dark Focus
Can be levelled two times (total of +25% Deficiency Defense)

Level 1: +11% Deficiency Defence
Level 2: +14% Deficiency Defence
Fly on the Wall
Can be levelled four times (total of +14 Power)

Level 1: +3 Power
Level 2: +3 Power
Level 3: +4 Power
Level 4: +4 Power
Star Power
Can be levelled four times (total of +15 Power)

Level 1: +3 Power
Level 2: +3 Power
Level 3: +4 Power
Level 4: +5 Power
Prediction Theory Analysis
Can be levelled two times (total of +5% Protego Power)

Level 1: +2% Protego Power
Level 2: +3% Protego Power
The Lost Masterpiece
Can be levelled three times (total of +22% Critical Power)
Level 1: +6% Critical Power
Level 2: +7% Critical Power
Level 3: +9% Critical Power
The Open Mind
Can be levelled two times (total of +5 Maximum Focus)

Level 1: +2 Maximum Focus
Level 2: +3 Maximum Focus
American Ingenuity
Can be levelled three times (total of +28% Critical Power)

Level 1: +8% Critical Power
Level 2: +9% Critical Power
Level 3: +11% Critical Power
Dementors
Can be levelled four times (total of +77% Critical Power)

Level 1: +14% Proficiency Power
Level 2: +17% Proficiency Power
Level 3: +20% Proficiency Power
Level 4: +26% Proficiency Power
Confronting the Faceless
Can be levelled three times (total of +15% ProtegoPower)

Level 1: +4% Protego Power
Level 2: +5% Protego Power
Level 3: +6% Protego Power
On Sabbatical
+12 Power vs Foes with at least 3 Impairments
Pesky Pixies
+30 Accuracy vs Pixies
Mundungus Among Us
+20% Protego Power vs Dark Wizards
On Sabbatical
+12 Power vs Foes with at least 3 Impairments
The Living Textbook
Can be levelled two times (total of +27% Defence)

Level 1: +12% Defence
Level 2: +15% Defence
Student Teaching
Can be levelled four times (total of +64 Stamina)

Level 1: +12 Stamina
Level 2: +14 Stamina
Level 3: +17 Stamina
Level 4: +21 Stamina
Sources: wizardsunitehub, harrypotterfandom, ice9x, anthonyberkers, quazii