What is a Auror?
Auror is the occupational title of any witch or wizard serving as a member of an elite unit of highly-trained, specialist officers tasked with upholding the law and protecting the magical communities in their respective countries from large-scale threats, and is employed by the wizarding governing bodies of many European countries, as well as the United States. In Great Britain, Aurors work for the Ministry of Magic while in North America, they answer to the Magical Congress of the United States of America.
Auror training is extremely difficult and intensive, so there are few qualified applicants. As Aurors of different countries deals with different high-risk situations that are most prominent to them, their training and areas of responsibility might vary greatly depending on the type of threats for which they are prepared and the magical education they received beforehand. In Britain, for example, the Aurors are trained to investigate crimes related to the Dark Arts, and to apprehend or detain dark wizards and witches.
In the United States however, they seem to go up against any criminal posing a significant threat. When working for the Major Investigation Department, using a number of magical tools and devices such as the Real-Time Hex Indicator map and the USA Spell Contraventions map to track down illegal or especially flamboyant use of magic that may pose a threat to the International Statute of Wizarding Secrecy. Also, unlike their British counterpart, the American Aurors are divided into several divisions around North America to keep the peace, as opposed to all working within the same one.
Aurors are, essentially, the wizarding world equivalent of police officers and military (as they serve in both roles for Muggles).
According to Minerva McGonagall, no Auror had been taken on by the Ministry of Magic for three years prior to 1995, though Nymphadora Tonks stated that she qualified the year before, meaning she was probably one of the last candidates taken on. The head of the British Auror Office (as of 2007) was Harry Potter, but he left to become Head of Department of Magical Law Enforcement by 2019.
Auror is a combat focused profession that specializes in dealing with dark wizards, spell casting and dealing straight out damage. Aurors are lead by the legendary Harry Potter.
"A few notes about skill tree nodes in Wizards Unite:
Some nodes provide passive buffs, while others can unlock completely new abilities
Some nodes can be upgraded more times than once
You don't have to unlock all nodes in order to get to the bottom of the skill tree
Players can freely switch between professions and it is highly advised to do so in Fortresses. Fortresses require multifaceted teams to complete and it's not expected that you will be able to complete them with a single Profession team."



Strengths and Weaknesses of Auror Profession in Wizards Unite
"Aurors are very effective at fighting Dark Forces type enemies but are at a disadvantage fighting Beasts type enemies.
Aurors are capable of putting out the most damage in combat out of all three professions. However, unlike the other two professions, they are unable to heal themselves. As such, Aurors are very reliant on health-restoring potions for sustain."
Auror Guide to Active Skills
Credits for the information listed at the end of the page.
Effect
The Weakening Hex
Impair a Foe by lowering their Power
Improved Weakness Hex
Can be levelled two times (total of -10% Foe Power)

Level 1: -5% Foe Power
Level 2: -5% Foe Power
Weakness Hex Maxima
Can be levelled three times (total of -15% Foe Power):

Level 1: -5% Foe Power
Level 2: -5% Foe Power
Level 3: -5% Foe Power
Weakness Hex Mastery
Can be levelled 2 times

Level 1: -10% Foe Defence, Dodge and Defence Breach
Level 2: -10% Foe Defence, Dodge and Counter Jinxes


The Bat-Bogey Hex
Reduce a single Foe's Stamina by a small amount
Ferocious Bat-Bogey Hex
Reduce Foe Stamina by -2
The Confusion Hex
Impair a Foe that lowers their Defense, Evasiveness, and Counter Jinxes
Confusion Hex Repetitions
Can be levelled two times

Level 1: -10% Foe Defence, Dodge, Defence Breach
Level 2: -10% Foe Defence, Dodge, Counter Jinxes


The Focus Charm
Transfer Focus from yourself to a Teammate
Auror Guide to Passive Skills
"This section lists all the active skills from the skill tree from top to bottom. Credits for the information listed at the end of the page. Credits for the information listed at the end of the page."
Effect
The Auror Advantage
+10 Power v.s. Foes with <50% Stamina
Protego Practice
Can be levelled two times (total of +3% Protego Power)

Level 1: +1% Protego Power
Level 2: +2% Protego Power
The Flitwick Method
Can be levelled two times (total of +4 Power)

Level 1: +2 Power
Level 2: +2 Power
Third Position
Can be levelled four times (total of +8 Power)

Level 1: +2 Power
Level 2: +2 Power
Level 3: +2 Power
Level 4: +2 Power
Field Training
Can be levelled three times (total of +4% Precision)

Level 1: +1% Precision
Level 2: +1% Precision
Level 3: +2% Precision
Resilience Training
Can be levelled three times (total of +21 Stamina)

Level 1: +6 Stamina
Level 2: +7 Stamina
Level 3: +8 Stamina
Auror's Handbook
Can be levelled two times (total of +15 Stamina)

Level 1: +7 Stamina
Level 2: +8 Stamina
Steel Conviction
Can be levelled two times (total of +2 Maximum Focus)

Level 1: +1 Maximum Focus
Level 2: +1 Maximum Focus
Method in the Mad-Eye
Can be levelled three times (total of +25 Stamina)

Level 1: +7 Stamina
Level 2: +8 Stamina
Level 3: +10 Stamina
Playing Dirty
+10% Defence vs Foes with at less than 50% Stamina
Mind the Gaps
Can be levelled five times (total of +9% Precision)

Level 1: +1% Precision
Level 2: +1% Precision
Level 3: +2% Precision
Level 4: +2% Precision
Level 5: +3% Precision
Gawaining Experience
Can be levelled two times (total of +19 Stamina)

Level 1: +9 Stamina
Level 2: +10 Stamina
Self Reflection
Can be levelled four times (total of +22% Critical Power)

Level 1: +4% Critical Power
Level 2: +5% Critical Power
Level 3: +6% Critical Power
Level 4: +7% Critical Power
The Duellists
Can be levelled four times (total of +9 Power)

Level 1: +2 Power
Level 2: +2 Power
Level 3: +2 Power
Level 4: +3 Power
Duelling In The Dark
+1 Initial Focus
Somatic Casting
Can be levelled three times (total of +7 Power)

Level 1: +2 Power
Level 2: +2 Power
Level 3: +3 Power
Full Body Fitness
Can be levelled three times (total of +31 Stamina)

Level 1: +9 Stamina
Level 2: +10 Stamina
Level 3: +12 Stamina
Punishment Principle
Can be levelled four times (total of +10 Power)

Level 1: +2 Power
Level 2: +2 Power
Level 3: +3 Power
Level 4: +3 Power
Duelling dummy
Can be levelled two times (total of +6 Power)

Level 1: +3 Power
Level 2: +3 Power
An Unforgivable
Can be levelled four times (total of +46 Stamina)

Level 1: +9 Stamina
Level 2: +10 Stamina
Level 3: +12 Stamina
Level 4: +15 Stamina
Walden Macnair
Can be levelled three times (total of +9 Power)

Level 1: +3 Power
Level 2: +3 Power
Level 3: +3 Power
Constant Vigilance
Can be levelled three times (total of +3 Maximum Focus)

Level 1: +1 Maximum Focus
Level 2: +1 Maximum Focus
Level 3: +1 Maximum Focus
To Protect And Serve
Can be levelled four times (total of +29% Proficiency Power)

Level 1: +5% Proficiency Power
Level 2: +6% Proficiency Power
Level 3: +8% Proficiency Power
Level 4: +10% Proficiency Power
Dancing With Dummies
+35% Precision vs Foes with 100% Stamina
Hidden Gem
Can be levelled two times (total of +15% Defence)

Level 1: +6% Defence
Level 2: +9% Defence
Practice Range
Can be levelled three times (total of +15% Accuracy)

Level 1: +3% Accuracy
Level 2: +5% Accuracy
Level 3: +7% Accuracy
Diggles' Discriminating Discourse
Can be levelled five times (total of +32% Defence Breach)

Level 1: +3% Defence Breach
Level 2: +4% Defence Breach
Level 3: +5% Defence Breach
Level 4: +8% Defence Breach
Level 5: +12% Defence Breach
The Criminal Mind
Can be levelled four times (total of +38% Proficiency Power)

Level 1: +7% Proficiency Power
Level 2: +8% Proficiency Power
Level 3: +10% Proficiency Power
Level 4: +13% Proficiency Power
Battle Instinct
Can be levelled three times (total of +7% Precision)

Level 1: +2% Precision
Level 2: +2% Precision
Level 3: +3% Precision
Creatures Elective
Can be levelled three times (total of +7% Precision)

Level 1: +6% Deficiency Defence
Level 2: +8% Deficiency Defence
Level 3: +11% Deficiency Defence
Advanced Guard
Can be levelled three times (total of +7% Protego Power)

Level 1: +2% Protego Power
Level 2: +2% Protego Power
Level 3: +3% Protego Power
History of the Dark Arts
Can be levelled five times (total of +61% Proficiency Power)

Level 1: +8% Proficiency Power
Level 2: +9% Proficiency Power
Level 3: +11% Proficiency Power
Level 4: +14% Proficiency Power
Level 5: +19% Proficiency Power
Thieves' Survival Guide
Can be levelled four times (total of +10% Precision)

Level 1: +2% Precision
Level 2: +2% Precision
Level 3: +3% Precision
Level 4: +3% Precision
Knowledge and Understanding
Can be levelled two times (total of +25% Deficiency Defence Power)

Level 1: +11% Deficiency Defence
Level 2: +14% Deficiency Defence
Into The Fire
Can be levelled three times (total of +39 Stamina)

Level 1: +11 Stamina
Level 2: +13 Stamina
Level 3: +15 Stamina
Best-Laid Plans
+1 Initial Focus
Accelerating Blast
Can be levelled three times (total of +22% Critical Power)

Level 1: +6% Critical Power
Level 2: +7% Critical Power
Level 3: +9% Critical Power
Light and Shadow Room
Can be levelled three times (total of +26% Critical Power)

Level 1: +7% Critical Power
Level 2: +9% Critical Power
Level 3: +10% Critical Power
Expanding Repertoire
Can be levelled four times (total of +13 Power)

Level 1: +3 Power
Level 2: +3 Power
Level 3: +3 Power
Level 4: +4 Power
Fashion Forward
Can be levelled two times (total of +24% Defence)

Level 1: +10% Defence
Level 2: +14% Defence
Perfect Form
Can be levelled four times (total of +14 Power)

Level 1: +3 Power
Level 2: +3 Power
Level 3: +4 Power
Level 4: +4 Power
The Trick With Death Eaters
+25% Precision vs Death Eaters
First Strike
+50% Critical Power vs Foes with 100% Stamina
Full Moon Hunter
+30% Defence Breach vs Werewolves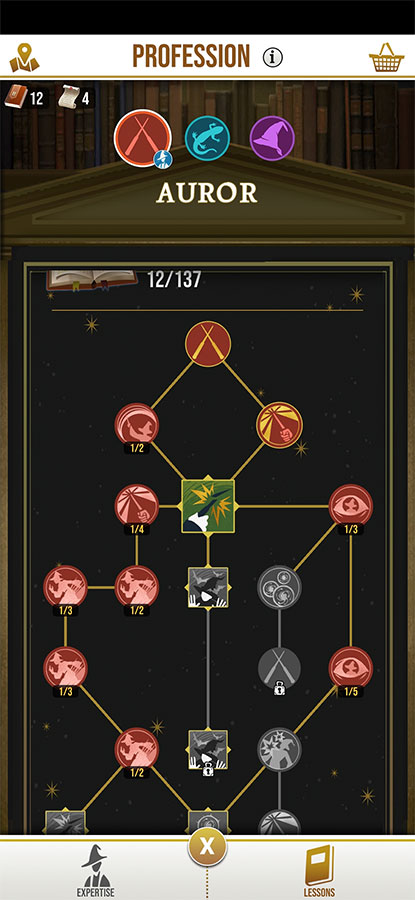 Sources: wizardsunitehub, harrypotterfandom ,ice9x , anthonyberkers , quazii